Stubborn triangles, Eitaro-ame candies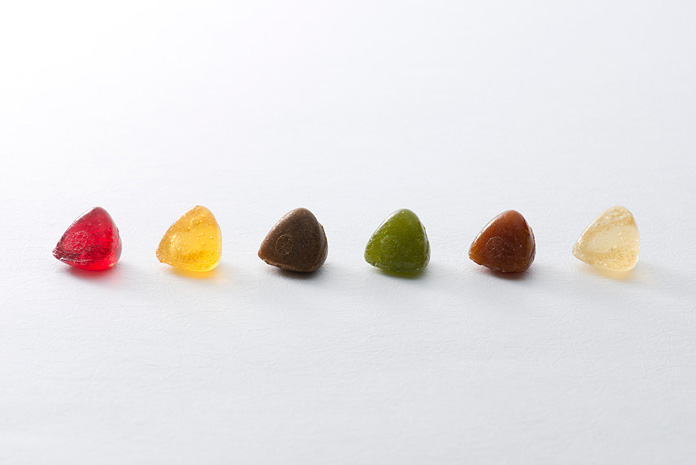 Umeboshi-ame candy was created out of an inventive idea based on a desire to offer aruheito, a kind of candy that was expensive for common people in Edo, at a more affordable price. As the triangular shape, after it was cut to finger-size from the unhardened mass of crimson-colored candy with scissors, looked like an umeboshi (pickled plum), the people of Edo, who loved puns, named this candy "Umeboshi-ame." It was followed by Kuro-ame (black candy), Matcha-ame, and Koucha-ame (black tea candy) produced based on the recipe for aruheito. At in the beginning of the Heisei period, Nodo-ame (troche-like candy) and Kaju-ame (fruit juice candy) were made with fruits grown in Japan and no artificial flavoring and coloring, and were added to the Eitaro-ame candy series. We will continue to produce safe and tasty candies following the recipes handed down from the Edo period.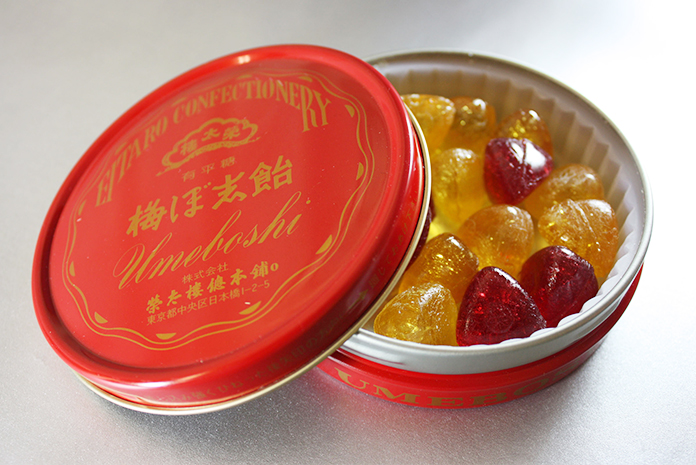 "Candy", not sour by any means
Looking somewhat like a wrinkled triangle, the peculiar shape was made by "cutting red candy that had been rolled out into a stick with scissors, and pinching the cut ends with fingers." Reminded of a sour pickled plum of all things, people called it "Umeboshi-ame" and made it a pastime. In honor of the sophisticated wit that inspired the Edo people to compare sweets to something sour, we have kept the name of Umeboshi-ame from when it was first sold in Edo to today.
---
Passionately made by confectioners
We have continued to follow the Edo recipe for Umeboshi-ame. It is made by rendering syrup made from brown sugar and sweet potato over direct heat at a high temperature. The right time to pour it from the pan is judged by the confectioners. Then, the candy is molded into triangles when it reaches the moderate temperature and hardness. Though today stringent quality controls are applied, our confectioners keep to the recipe handed down from the Edo period to today.
---
Triangular shape for greater palatable pleasure
The characteristic triangle has rounded corners. This is done to prevent the cut ends of the candy from hurting the inside of the mouth and the candy from being chipped. In addition, its nice crispy feel when being crunched without sticking to the teeth and complex flavor mainly of caramel generated by thermal decomposition of sugar and giving unique richness do not get you tired. Also, it proves its high sugar purity that you won't have the inside of the mouth chapped no matter how many pieces you eat. It is said that in the Meiji and Taisho periods, when there were not enough cosmetics, geishas and maiko in Kyoto and vicinity would often ask for this Umeboshi-ame as souvenirs from Tokyo because it would make their rouge shiny without chapping when rubbed on the lips before lipstick.
---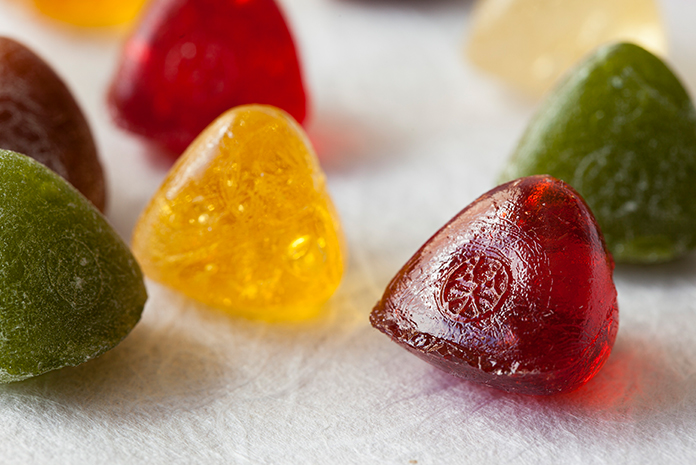 Will continue making safe and tasty candies, forever
In the beginning of the Heisei period, Nodo-ame (troche-like candy), our first new item in 50 years, was added to our product line. It features a mild sweetness generated from a combination of a mint native to Japan and the gentle flavor of the domestic Hyakka honey of Yamada Bee Farm. In 2013, Kaju-ame (fruit juice candy) was added to the Eitaro-ame candy series. By using Food ingredients made from fruits processed by a special method, we were able to preserve the natural sweetness, fragrance, and bright colors of the fruits, and make this candy without using artificial coloring or flavoring. For people of all generations from children to seniors, we will continue making candies of the best quality without depending on additives.
* Kaju-ame received the Excellence Award for the product category at the 2012 Food Action Nippon Awards.
---
MOVIE
---